Preparative & Process Chromatography. Quattro Centrifugal Partition Chromatography (CPC) & Quattro Counter Current Chromatography (CCC), Utilising Liquid-Liquid Chromatography.
Quattro CPC & CCC enable Instrumental Liquid-Liquid, Preparative Chromatography, Extraction and Option For Unique Chemical Synthesis
Benefits of CPC & CCCRetail PricesCustom BuildsIntroduction to use of ionic Liquids in CPC/CCCMedicinal CannabinoidsAbout UsContact Us
Mass Scales:- Laboratory Scale of Milligrams, up to Industrial Scale of Tonnes Per Annum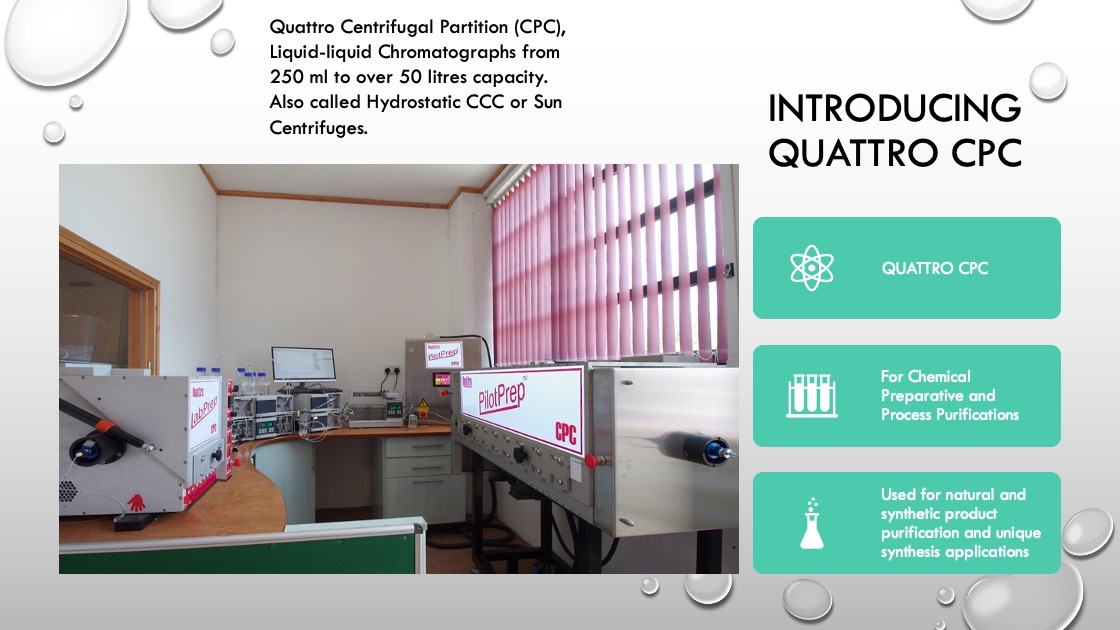 Why you need Quattro CPC or Quattro CCC:
Save ~50-90% process chromatography / extraction, solvent / column costs.
Ideal HPLC-MS pre-prep; no column induced degradation or adsorption. 95+ % mass balance independently proven.
Uniquely allows infinitely polar to infinitely non-polar prep in one run. Or change mode and reverse the former polarity profiling.
Contract laboratory and process method development services available. Contact AECS-QuikPrep Ltd for Feasibility Study quotes.
Easily scale-up from milligram to grams, or to kilos, or to your tonne plus process chromatography scale.
Orthogonal selectivity options compared to process chromatography by HPLC / Flash / SFC.
No solubility problems; massive range of solvents available. Even option to use custom synthesised Ionic Liquid biphasic solvents.
IL / SFC / SFC-MS / MS / MS-MS / HPLC / HPLC-MS compatible. Especially beneficial with sequential CPC / CCC and Prep HPLC.
High process chromatography mass loading (typically 5 to 40 g per 1 litre capacity), with option to design to maximise throughput.
Inject up to 10 % coil volume without excessive band spreading. In some circumstances 15 or 20% coil volume may be possible.
High pressure (1000psi+) + high "G" (80-150)(250)(350+) options. Custom CCC tubing bores & lengths & CPC chamber size options.
Only manufacturers of both hydrodynamic CCC (planetary centrifuge, CCC, HPCCC) & hydrostatic CCC (sun centrifuge, CPC, HPCPC).
New dedicated IONIC LIQUID CHROMATOGRAPHY / EXTRACTION Quattro CCC & Quattro CPC.
Custom Quattro CCC MULTI-COIL, 2D & 3D DUAL-FLOW Quattro CCCs / CPCs with extraction options.
COST, AND HOW TO SCALE UP YOUR LABORATORY APPLICATION TO PILOT, OR TONNE PER ANNUM PLUS, PROCESS QUATTRO CENTRIFUGAL PARTITION CHROMATOGRAPHY APPLICATION?
Quattro CPC offers the potential, through their modular construction, of triple layer, three dimensionally machined, 316 Medical Grade Stainless Steel (or Custom Material) Rotor Blocks, full control of dimensions of length, and diameter, plus number of CPC chambers. You may chose from a standard range of scale up stages, with AECS known properties, or request customised rotors to suit your specific requirements. We have to date very high success in predictable scaleup from laboratory Quattro CPC to process Quattro CPC, and also from laboratory Quattro CCC to pilot scale Quattro CCC.
In certain cases, clients have transferred Quattro CCC derived methods successfully to process Quattro CPC, though we do not recommend method transfer between LLC concepts, as it offers more risk of scale up failure, than if you stay with same LLC concept.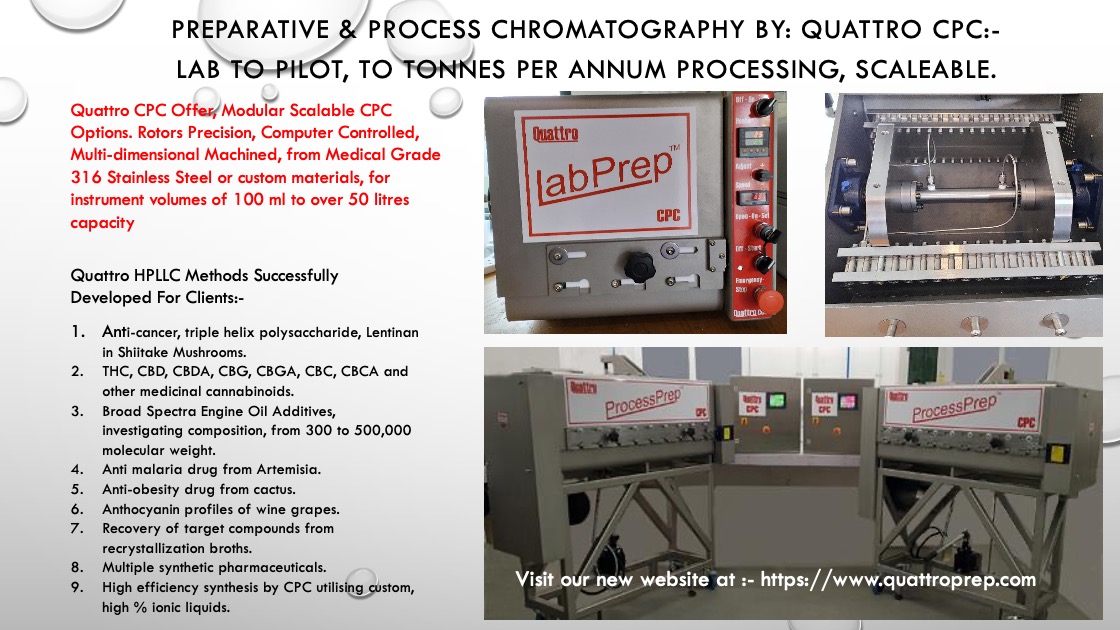 LABORATORY, PILOT AND PROCESS SCALE QUATTRO CPC & CCC PRICES
Quattro QuikPrep™ / LabPrep™ CPC & CCC units: 100ml to 2000ml total instrument volumes. Options of multiple volumes per instrument from 30ml. Price range £27,500 to £87,500.
Quattro PilotPrep™ CPC 1 x 4.8 Litres £136,000
Quattro ProcessPrep™ CPC 1 x 12 Litres £187,000
Quattro ProcessPrep™ CPC 2 x 12 Litres £340,000
Quattro ProcessPrep™ CPC 4 x 12 Litres £625,000
Quattro ProcessPrep™ CPC 1 x 50 Litres £650,000
Laboratory Quattro CPC & Quattro CCC, offer you enormous scope for researching unknown bioactivities, purifying difficult to obtain pure compounds from complex mixtures, be they natural products or synthethetic products, and host of other opportunities, which are discussed in the above Applications and Method Training Page (see second Header Button).
Quattro CPC offers the potential for massive processing cost savings, as no need to buy any solid stationary phase. Additionally, there is the cost saving of not needing to pay for disposal of contaminated used solid, stationary (silica etc) phase. With elution – extrusion, each run has new stationary phase for maximum reproducibility. Also there is potential, independently proven, to achieve 95+% injection mass recovery, and 95+% purity. The injection mass per solvent usage can also result in considerable solvent cost savings. Also as with Flash Chromatography & Process HPLC, so with CPC & CCC, with appropriate biphasic solvent choice, high cost efficiency is achieveable, through easy solvent recycling.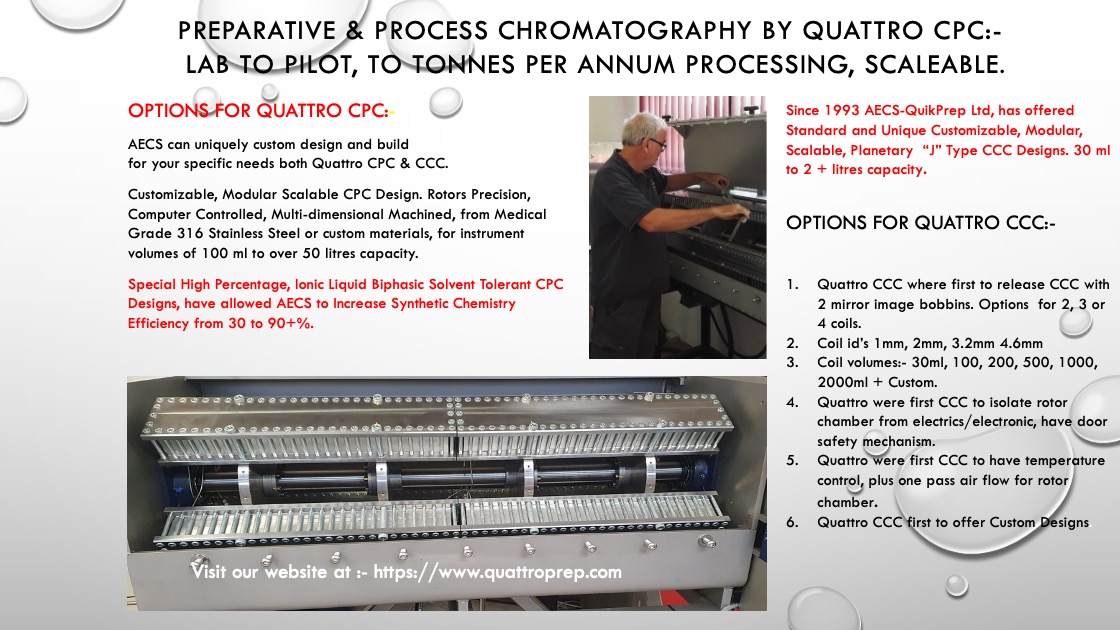 INTRODUCTION TO USE OF HIGH PERCENTAGE IONIC LIQUID BIPHASICS IN QUATTRO CPC & CCC
We believe high percentage Ionic Liquid Biphasics are the answer to major process CPC, because they are simple and easy to recycle the Biphasic Solvents, plus offer a huge variety of chemical selectivities to chose from. Ionic Liquids can be chosen to protect compound's structure, or alternatively to cause a controlled reaction of compounds to effect, unique high yield synthesis of required products during the Quattro CPC run.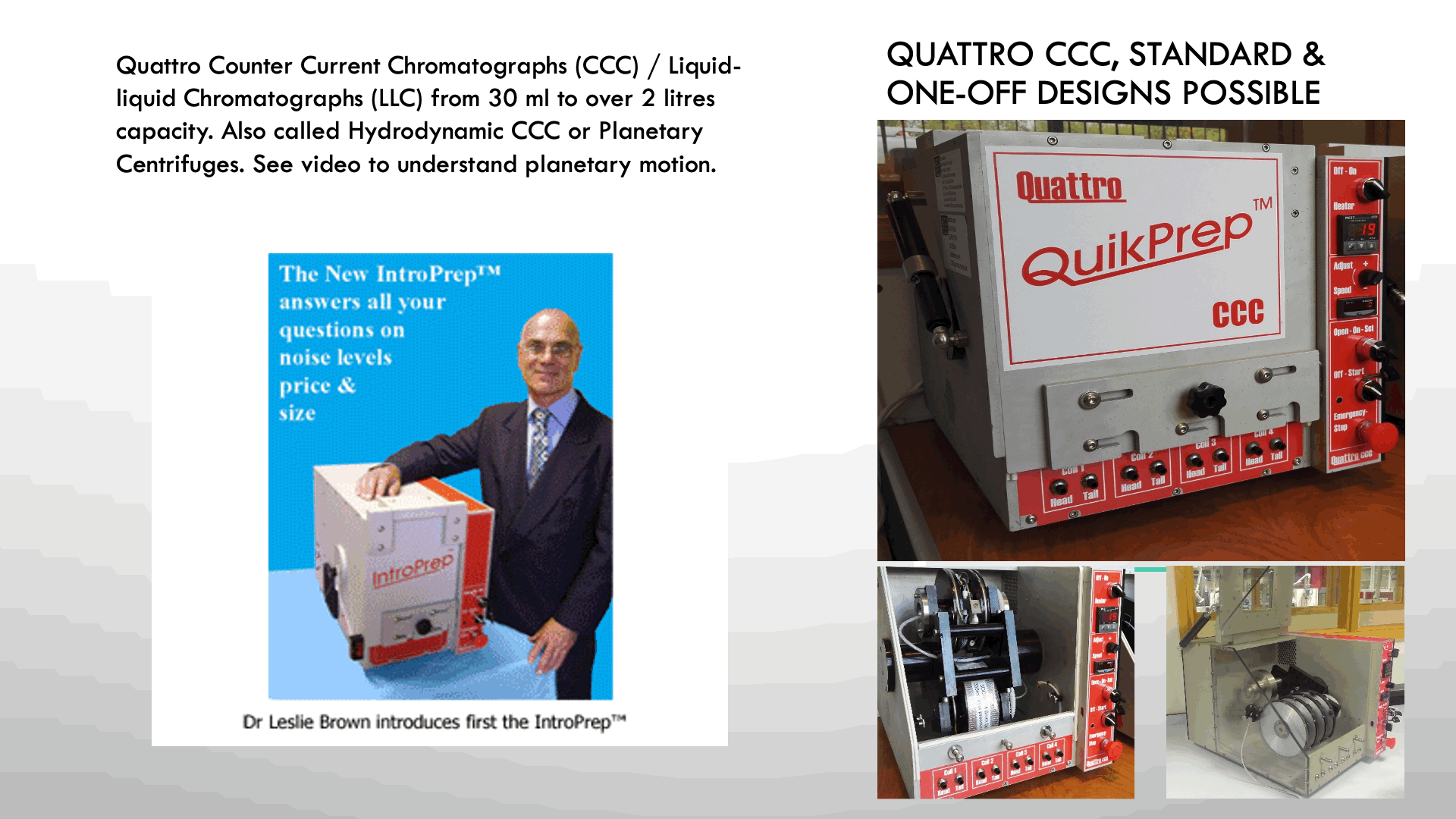 See Applications and Methodology Training for Ideas on Laboratory and Process Method Development
This page gives you access to the 30+ years of AECS-QuikPrep's experience in methodology development in CCC & CPC. Most of our research is covered by Confidentiality requirements from our clients, but some are happy for us to show non-Confidential Research. The latter also applies to the many Academic Researchers who have purchased Quattro CPC or Quattro CCC. We discuss biphasic solvent choice, preference for isocratic, exotic or step gradients, CCC and CPC methodology transfers and the potential time and cost savings of utilising Sequential CPC or CCC and Prepartive HPLC.
Plus we discuss these topics for a very wide range of chemistries, ranging from very non-polar engine oil additives etc., to mid polarity medicinal cannabinoids etc., to highly polar, only aqueous soluble sugars, polysaccharides etc.
Uniquely AECS-QuikPrep can manufacture both Hydrodynamic CCC (Planetary CCC, HSCCC, HPCCC, HPL-LC™) and Hydrostatic CCC (Droplet Centrifugal Partition Chromatography, CPC, HPCPC) at scales from 30 ml to 100+ litres. We have units in both research laboratories and process manufacture units throughout the World. We collaborate with Research Institutes / Universities, for both standard solvents and Ionic Liquid Biphasic CCC / CPC Exraction, On-Coil / On-Rotor Synthesis & Chromatography.
We can custom build for your research programme needs, to mutually agreed specification and price.
We can custom build both CCC & CPC units specific for your requirements because of our unique modular construction. Options of different CCC bore or CPC cell / chamber sizes, different volumes on the same instrument. We can custom design to accommodate your specific needs, within a mutually agreed budget. Other competitors cannot match our design and build flexibility. Just ask them and us to custom build to your specific needs and budget. We will custom build to match a mutually agreed requirement & price.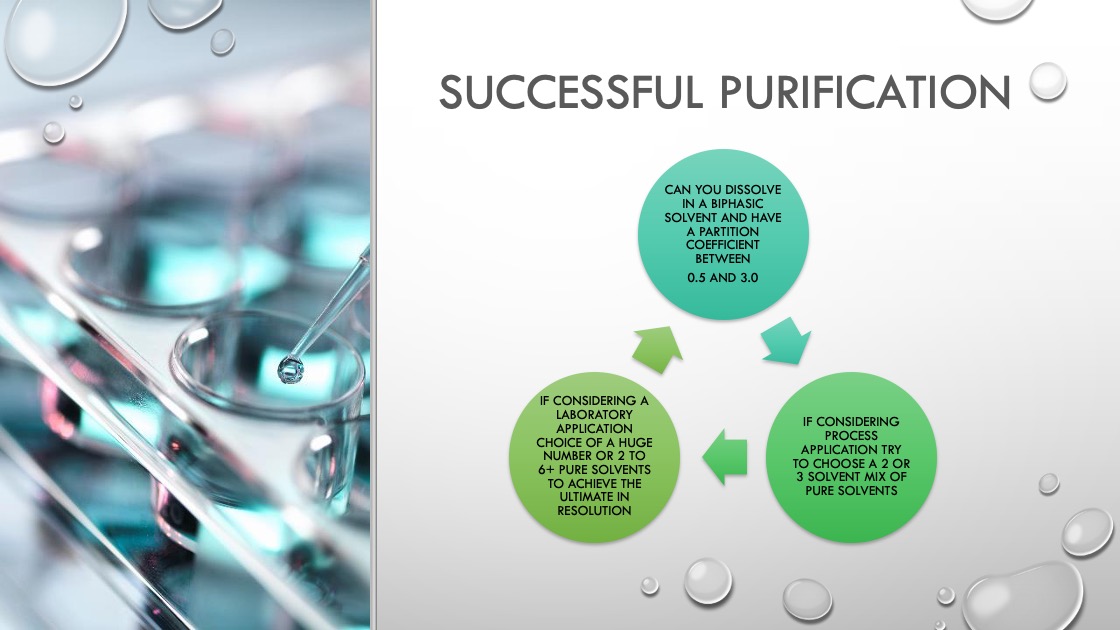 AECS-QuikPrep Ltd has been conducting fundamental liquid-liquid chromatography research since 1993. We have innovated many important liquid-liquid chromatography instrument designs. Others have copied, but never bettered our designs, or vaguely approach the safety features of our instrumentation.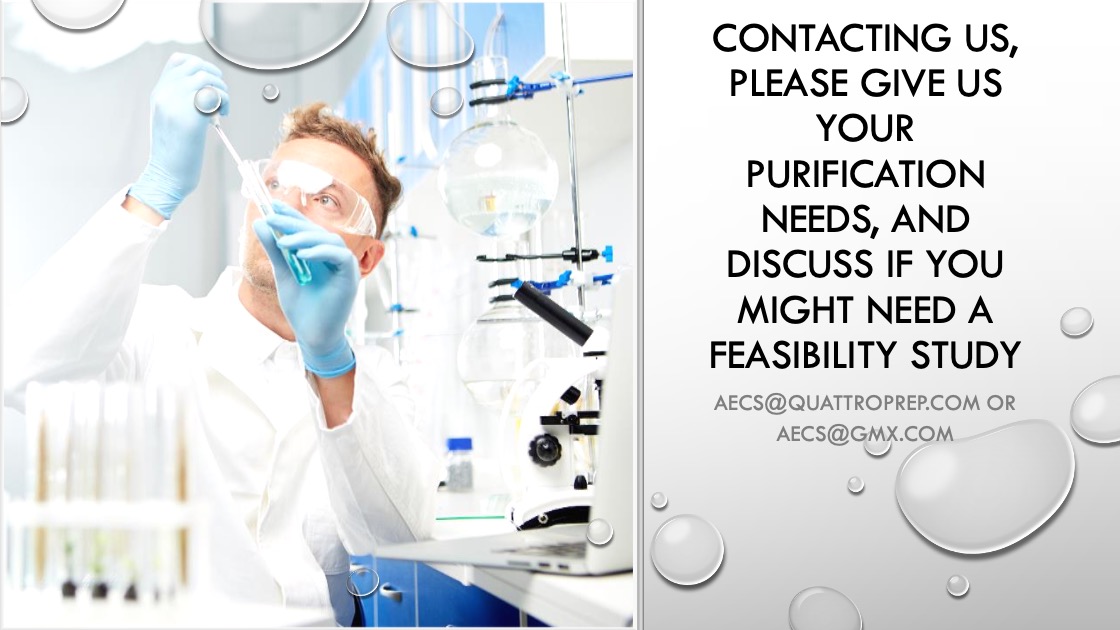 The fact that AECS's experience in liquid-liquid chromatography instrument design, manufacture and research, dates from 1993, compares very favourably to many of our present competitor CCC and CPC companies.
Some competitors never even existed with their present intellectual property owners, just a few years ago.
Some are very recent Venture Capital funded start-ups.
Some competitors sell purified target compound products, that are the equivalent to their client's own products.
AECS-QuikPrep Ltd., purifys compounds for clients, but never does sell chemicals, on the open market.
If you need a laboratory method, or tonne plus per annum, process method, then come to the experts, AECS-QuikPrep Ltd.
No other company comes close to AECS-QuikPrep Ltd's experience in method development or guarantees never to compete with you on target compound sales.
Quattro CCC™ Planetary Motion Video (2 bobbins, 4 coils / 3 coil ids). NOTE:- Door safety mechanism disabled for this demonstration video. Set spin speeds are very constant. The video judder is caused by camera/internet technology.
New Options for novel Quattro CPC™, Plus a Number of New Potential Uses / Advantages
The Sun Motion Rotors can be custom made in Stainless Steel or other materials, ie Titanium etc., for proteins etc.
Quattro CPC instruments can have different chamber designs, on different rotor block sets, plus can have 2 different id cell (chamber) bore configurations, in the same Quattro CPC instrument. This gives the potential for a method development rotor and process rotor in the same Quattro CPC instrument.
Quattro CPC is ideal for MABs, proteins, peptides & enzymes, other organic and inorganic purification by chromatography.
Quattro CPC can be used to extract target compounds from complex dissolved mixtures, when using either contaminated complex crude mixtures as the mobile or the stationary phase, depending on the CPC mode chosen.
AECS's unique multi-block CPC rotor design offers multiple specification options and designs, which can allow us to design for maximum resolution, or maximum throughput, or a mutually agreed compromise.
The Quattro CPC conceptual design is massively less critical, if client induced mistakes cause CPC rotor blockage. A blockage in one rotor block, can be bypassed and a slightly reduced processing rate can continue. The user can at a convenient time, remove a matched pair, and dismantle, clean and reassemble the client blocked rotor, whilst keeping production going with 2 less rotor blocks, if this is required.
Such an occurance in a stacked disc CPC design means factory repair of the whole rotor assembly, and considerable total processing downtime.
Medicinal Cannabinoid Separations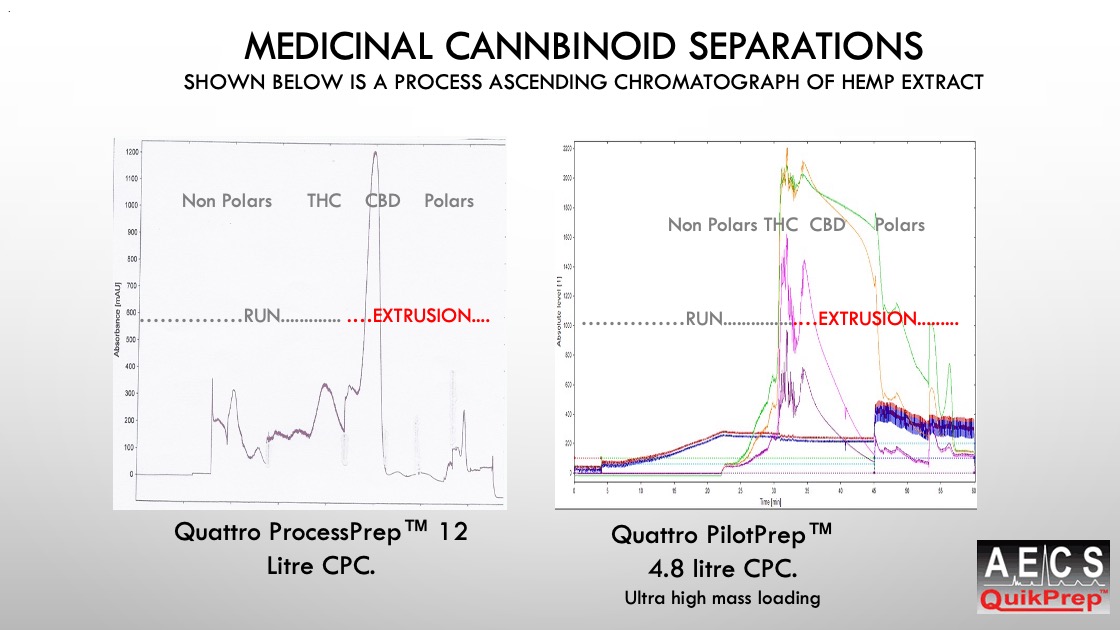 Modular design, and the use of interchangeable components is common in aerospace, car, electronics etc industry.
But only AECS-QuikPrep has employed this concept to liquid-liquid chromatography. We did this to ensure the maximum likihood of successful scale-up.
About Us
The AECS brings you scientific and design research talent, plus company stability. AECS has been trading as same family-owned Company for approximately 40 years. Since 1983, AECS has been doing contract design research for third party instrument companies. Projects included the design of moving belt HPLC-MS, HPLC-FID and HPLC-MPD detectors; evaporative light scatter detectors; the world's first Peltier HPLC column air ovens / chillers, etc.
AECS has also helped an USA based HPLC Column Company successfully productionise a completely new concept in HPLC phase product lines, which has been a commercial success for the Company, for over two decades.
AECS has designed and built numerous prototype, laboratory instruments for Blue-Chip International Companies.
AECS designed and built our first Quattro CCC™ in the early 1990s, when Smith Kline Beecham were not prepared to purchase the then existing CCC / CPC instrumentation, and placed an open-design Purchase Order with AECS, for what became the Quattro CCC™ Mk I. They like many others, before and since, trusted AECS's conceptual design expertise, and contracted AECS to build an improved design regards to both safety and performance. Since then, we have designed and built numerous custom Quattro L-LC™ for many clients. AECS offers our clients proven, but ever evolving, commercially relevant CCC / CPC units. We have over 28 years of worldwide LLC commercial trading experience.
Please consider visiting our new demonstration laboratory, near Newquay Airport, only 1 hour flight from London Heathrow, and therefore with good connections to many National & International Airports.
Contact Us