Beginners Guide to CPC & CCC ChromatographyIntroducing Quattro CPC & Quattro CCCNeem ExtractsBiphasic ChoiceMultiple Pure CompoundsAdditional Research ExamplesContact Us
The following slideshows are samples of those supplied by collaborators, who co-researched the fundamentals of Quattro CCC & CPC, when they purchased from AECS-QuikPrep Ltd, Quatro LLC.
Beginners Guide to CPC & CCC Chromatography
Introducing Quattro CPC & Quattro CCC
Advantages of Sequential CPC/CCC and Preprative HPLC for purifying targets from complex Neem Extracts.
Plus Achieving 95+% mass balance for injection and 95+% Target Compound Purity.
Biphasic Choice
Transfering methods to & from CPC & CCC sometimes possible, but not always so.
Plus methods developed on one concept, or even same concept, but from different manufacturers, might not work on another concept, or manufacturers product. But by optimising biphasic solvent properly, for concept / product being used, could lead to far greater target compound throughput.
How to Achieve Multiple Pure Compounds From a Natural Tar Like Product
Stressing importance of using best technology to achieve your result. Sometimes using two different concepts in series can be massively more effective than restricting yourself to one concept, being that CPC, CCC, Prep HPLC or Flash Chromatography.
Additional Research Examples
Shown below are a wide range of research examples :- Total content screening of competitor's engine oil additives. Purification individual components in engine oil additives. Polyphenols, NEEM, Erythromycin, Pyrethrins Purity assessment, bioactivity profiling, inclusive finding previously unknown bio actives etc.
Independent University researchers prove an approximate 100% MASS BALANCE, injected material to CCC recovery, is possible, why also achieving pure targets at 95+% purity as well as 95+% recovery.
An in depth discussion on choice of biphasic solvents, comparison of linear, exotic and step gradients in LLC.
Discussion on care need when using biphasic solvents mixes, when changing the methanol solvent ratios, for DCM or Chloroform : Methanol : Aqueous biphasic, which can change aqueous phase from upper phase, to lower phase, as methanol content increases.
Quattro LLC Success using Sequential LLC & HPLC, is discussed.
Introduction to Dr Leslie Brown designed, commercially sold, Moving Belt HPLC-FID, HPLC-MS, HPLC-MPD.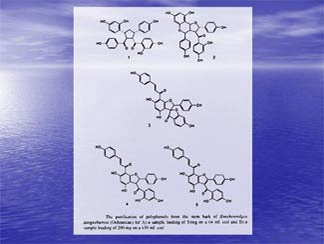 Application for bioactive phenylpropanoid & iridoid glycosides. Pictures of historic Craig & PC Inc L-LC.
Gradient elution, Optimising biphasic solvent, Optimising step gradient, Results, Summary.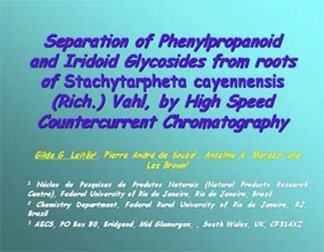 CCC application for bioactive pyridine derivatives purification, and confirmation that silica based chromatography failed, which lead to the choice of CCC. Why gradient elution chosen. Optimisation of biphasic solvent. Optimisation of step gradient, utilising one of AECS's generic strategies. Discussion of the value of using test tube partitioning with TLC testing for partition coefficient determination. Results. Summary.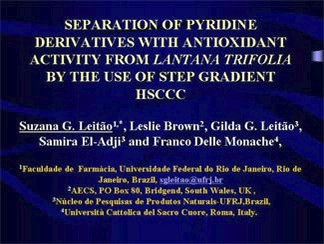 Contact Us
Any questions, please contact us to discuss your needs by phone, Teams, Zoom, or Google Video Link, etc.